About the Founders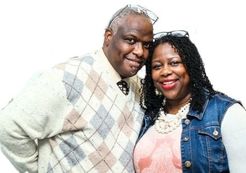 KEITH & TRACEY MILLBROOK
Both Keith and Tracey grew up in the most improvised community in Memphis, Shelby County, and Tennessee. South Memphis was and still is plague with drugs, alcohol, broken families, abuse of all, criminal behaviors, neglect of children, blight and hopelessness. They both became a product of their community before they were adults. Keith & Tracey both are school dropouts, have struggled with substance abuse, were teen parents, experiences homelessness, and have witnessed family members on both sides die due to these social barriers. This rigorous lifestyle has also hindered them from being productive citizens in the past.
It was not until they both came into contact with multiple individuals who saw quality in them that life began to turn in a positive direction. These individuals are called Mentors. They invested time, patience, kindness, teaching, inspiration, and motivation into them. After coming together on one accord and being coached by their G.E.D. teacher (1st Mentor) they decided to make a change in order to provide a better life for their children as well as themselves.

Today the couple has made several accomplishments that not only changed the course of their lives, but prepared them to help others to also overcome socio-economic barriers. In 1998 they received their GEDs; they then went on to further their education by matriculating Bachelor's degrees at LeMoyne-Owen College by 2005, and in 2009 the couple obtained Master Degrees in Public Administration from Strayer University. They are also certified Non-Pro-fit Professionals. Keith is an Executive Director for Barron Heights Transitional Center, a transitioning housing facility for homeless veterans. Tracey is the Executive Director for We Are Family Community Development Corporation.

Their primary goal is to help under-served youth, families and individuals to become stable, functional, and self-sufficient in an effort to improve the quality of life. The intended end result will be to gradually help create healthier and safer communities in Memphis & Shelby County.
---